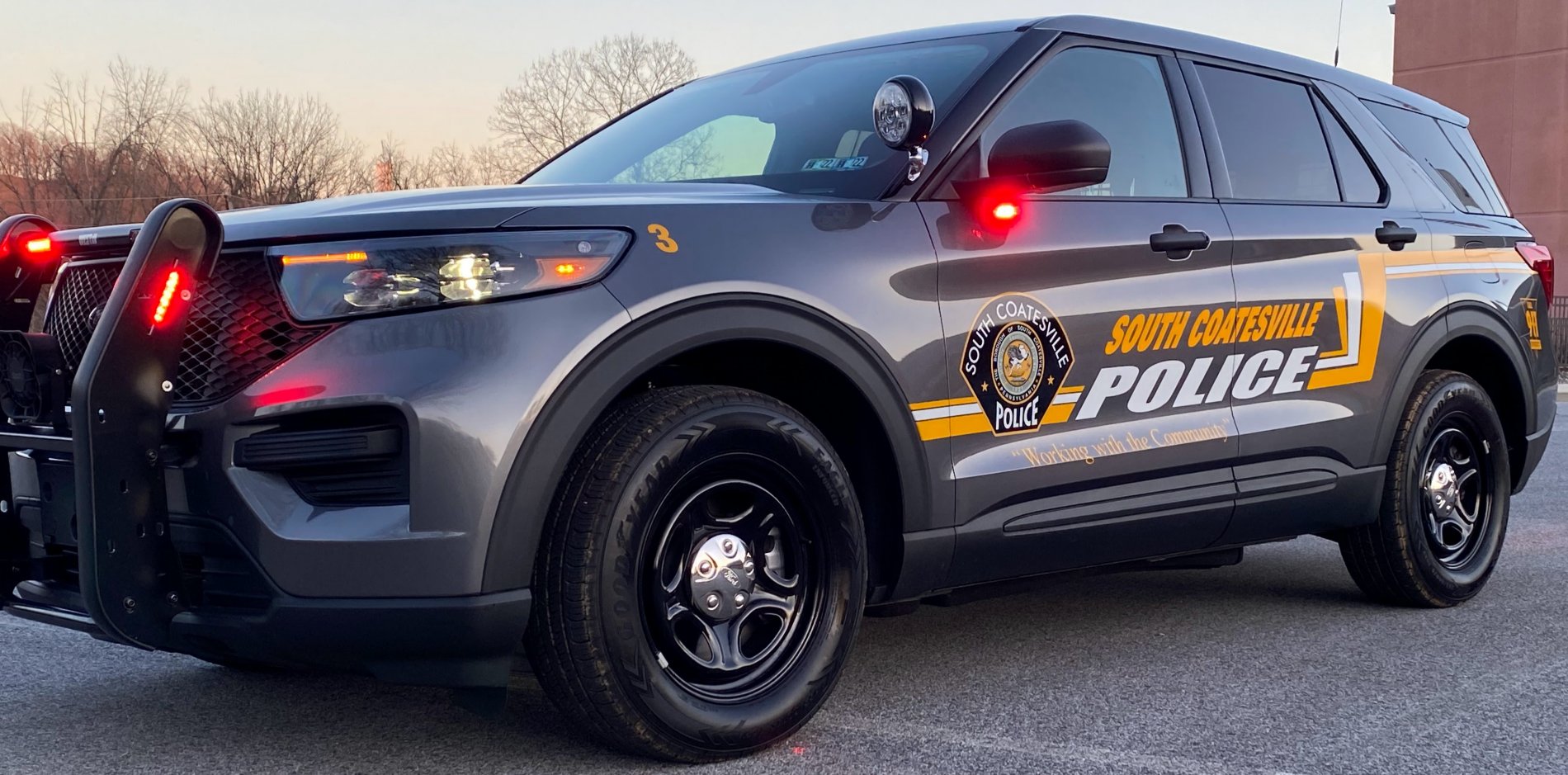 FAQ & Info
What is the address of the Police Station??

The address is 134 Modena Road, S. Coatesville, PA 19320

What do I do if I received a Citation??

Humm let's see..... Pay it!!!! Honestly, you will have 10 days to contact the appropriate District Court and let them know what your planning on doing. You can plead guilty or not guilty. If you plead guilty, you pay the fine and court costs and your done. Also keep in mind that there may be other ramifications of pleading guilty to certain offenses: ie certain Traffic Offenses carries points. If you plead not guilty, you are asking for a hearing where you will go in front of the Judge and you and the Officer will testify. The Judge will then make a decision if your guilty or not guilty.

What do I do if I received a Parking ticket??

Refer to first part of the above answer.... Actually parking tickets are paid at the Borough Hall (during business hours) within the time period specified on the ticket. If the ticket goes unpaid, a state citation will be mailed to the registered owner of the vehicle.

Is there a fee for a copy of an accident or Police report??

Yes, there is. The fee for a copy of an accident or Police report is $15.00. You can pay by cash, check, or money order (payable to the Borough of South Coatesville). If you pay at Borough Hall, you MUST show the Officer your paid receipt in order to receive the report.

How do I get in contact with a Police Officer for a NON-EMERGENCY call??

Simply dial 610-384-3500 (if an Officer is on station, he will answer the phone or you can leave a detailed message on the voicemail) or you can dial 610-383-7000 and when the call taker answers, tell them it is a NON-EMERGENCY and that you wish to speak with an Officer from South Coatesville PD.

What constitutes an abandoned vehicle??

A vehicle (other than a pedalcycle) is abandoned on public streets if it is parked for more than 48 hours while displaying an expired inspection or registration sticker; is in an inoperable condition; or is parked illegally. A vehicle is abandoned on private property if it has been parked there for more than 24 hours without the consent of the property owner, in which case the property owner or designee must report the vehicle as abandoned.
1 City Hall Place, Suite #200
Coatesville, PA 19320-3488
Phone: 610-455-1155

Fax: 610-455-1139
District Judge: Gregory V. Hines
315 W. First Avenue, Bldg.3
Parkesburg, PA 19365
Phone: 610-455-1115
Fax: 610-455-1107
District Judge: Nancy A. Gill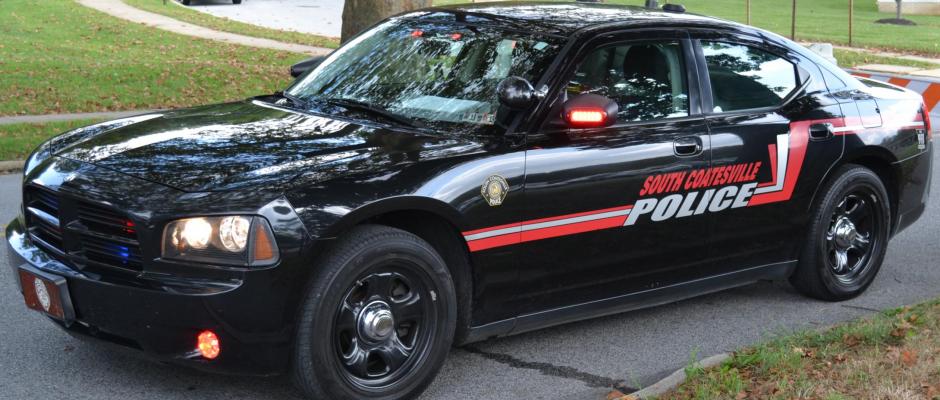 Common Traffic Law Questions
When am I required to use headlights? Effective January 29, 2007, drivers are now required to use their headlights anytime their windshield wipers are in operation. Specifically, Section 4302(a)(3) of the Pennsylvania Vehicle Code states that headlights are required: "Any time when the vehicle's windshield wipers are in continuous or intermittent use due to precipitation or atmospheric moisture, including rain, snow, sleet or mist." In addition to the above change, headlights are required between sunset and sunrise and anytime an operator cannot discern a person or vehicle upon a highway from a distance of 1000 feet due to insufficient light or unfavorable atmospheric conditions (i.e. rain, snow, fog, sleet, smoke, etc.). You should also be aware that daytime running lamps are not considered headlights. If your headlights are on, then the other vehicle lighting will be on too (i.e. taillights and other marker lights as required).

What is the new Pennsylvania's Texting and Driving Law - Effective 03/08/2012?

Pennsylvania's new law prohibiting texting while driving takes efect at 12:01 am on Mar 3. The new law prohibits any driver from operating a vehicle while using an interactive wireless communications device to send, read or write a text-based communication while the vehicle is in motion. The law does not prohibit selecting or entering a phone number for the purpose of activating or deactivating a voice-based communication or phone call.

An interactive wireless communications device is defined as a telephone, personal digital assistant, smart phone or portable or mobile computer or similar device which can be used for voice communication, texting, e-mailing, browsing the internet or instant messaging. The term does not include a device being used exclusively as a GPS or navigation system, a system or device that is physically or electronically integrated into the vehicle, or a communications device that is affixed to a mass transit vehicle, bus or school bus.

Can I drive in the left lane on a limited access highway for an unlimited amount of time?
No. The Pennsylvania Vehicle Code states "Vehicles shall be driven in the lane nearest the right-hand edge of the roadway, except when overtaking (passing) another vehicle, or for a distance of up to two miles in preparation for a left turn, or as directed by official traffic control devices, police officers or appropriately attired persons authorized to divert, control or regulate traffic."
How far behind the vehicle in front of me should I be when driving?
The Pennsylvania Driver's Manual recommends the "Four-Second-Rule" as a helpful guide. To follow the "Four-Second-Rule" watch the rear bumper of the vehicle ahead. When the bumper passes a shadow or road marking, start counting the seconds you take to reach the same spot on the road. If you pass the same spot in less than four seconds, you are following too closely.
When do I need to use a child safety seat?
State law requires that children under the age of four (4) must be buckled into a federally-approved safety seat no matter where they ride in a motor vehicle - front or back seat. Additionally, any person that transports a child four (4) years of age or older, but under eight (8) years of age, anywhere in the motor vehicle shall secure the child with the seat belt and in an appropriately fitting child booster seat.
Why should I stop at the white stop line at a traffic signal?
Most traffic signals operate in part by monitoring traffic position through sensors embedded in the pavement at the intersection. The sensors are placed in conjunction with the white stop lines. Stopping too far behind or too far in front of the white line may result in the sensor not detecting your vehicle. This in turn may result in failing to receive a green signal. The lines also regulate the stopped position of waiting vehicles to provide the necessary turning area required for vehicles turning left through the intersection.
Can passengers ride in the bed of my pickup truck?
Persons 18 years of age and older may ride in the bed if the vehicle is driven at a speed of no more than 35 miles per hour. No child less than 18 years of age may ride in the bed at any speed. Certain exemptions exist for farm operations, hunting and parades.
If I am involved in an auto accident, when must I report it to the police?
If the accident involves death or injury to any person or damage to any vehicle to the extent that it requires towing. If any of these circumstances are present, the driver must immediately notify the police.